SoundDrops

Still looking for a really convincing guitar amp tone for your ITB productions?

Tired of lifeless digital emulations of clean/light crunch guitar sounds that haunt your lovingly crafted mixes?

Cheer up, because your search has definitely come to an end…
...SURREY GUITAR AMP SUITE is here!
Based on a wonderful vintage 'Custom 50' paired with a 4x12" cabinet, both built in the early '70s, the SURREY suite of Acqua libraries for N4 by SoundDrops is bound to surprise you with its lifelike depth, its warm yet snappy tone. The bundle includes also a plug-in specifically dedicated to the recreation of the ambience around your guitar tone, be it a classic spring reverb or the real, special room in which this amplifier has been working its magic for many years.
Also available as a fully functioning 30-days trial version...
MANTIS 2 AND MANTIS MB
PWM COMPRESSOR BUNDLE
A year after the successful debut of SoundDrops' first Nebula/Acqua library…
...MANTIS 2 PWM COMPRESSOR is back!
As much as it was a plain, single-instance Nebula program, MANTIS 1 PWM compressor was
prized as a very effective and musical processor, particularly suitable for bus dynamic control and
mastering duties. In this brand new MANTIS 2 BUNDLE by SoundDrops you'll see how the young
MANTIS has come of age, complete with a multiband version and pre-amp/clipper stages...
A Trial Version is available as well.
And in typical Acustica fashion, please be aware that the greatly expanded MANTIS 2 BUNDLE is
free for all former MANTIS owners!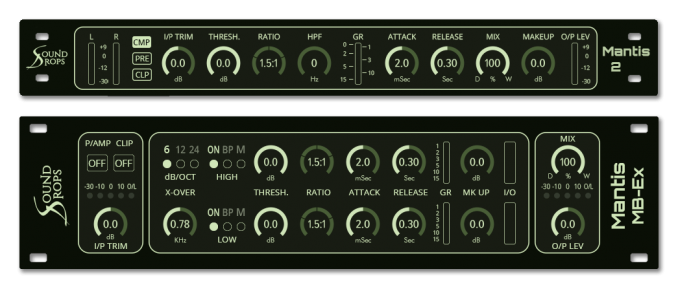 Voxengo Latency Delay Preset
[0 Kb]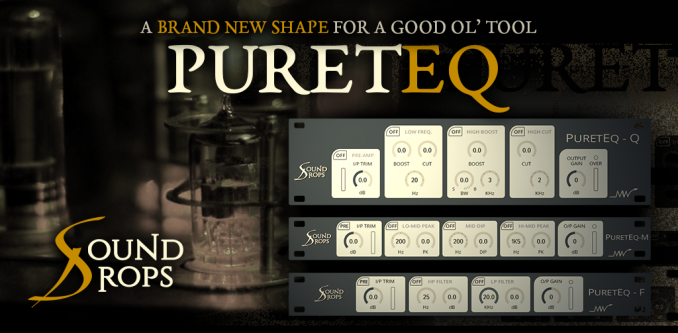 PURETEQ BUNDLE, the third Acqua library by SoundDrops, is out!!!




PURETEQ BUNDLE is a collection of three sought-after vacuum-tube based processors that have literally written the history of professional music recording.


PURETEQ BUNDLE includes 3 different plug-ins:

- PURETEQ-Q, modeled on a universally acclaimed program equalizer;
- PURETEQ-M, its mid-range specialized companion;
- PURETEQ-F, a 18dB/octave High- and Low-Pass passive filter bank.


In typical MetaWare fashion, the original functionality of each processor has been enhanced in ways that would be highly impractical, if not altogether impossible, in the analogue domain.

A transformer-coupled, vacuum-tube pre-amp stage is included in each plug-in.
PURETEQ BUNDLE: 80€


PURETEQ-FREE is available in your Aquarius account!!!

PURETEQ-FREE, is out!

PURETEQ-FREE by SoundDrops is a complimentary plug-in available in Aquarius. It is offered as a free appetizer expressly designed to give you a little taste of the magic that its three bigger brothers in PURETEQ BUNDLE are able to work on your music.


PURETEQ-FREE includes two filtering cells directly taken from the commercial bundle.
The Low Frequency cell offers two separate controls for boosting and cutting the same frequency range; similarly to its analogue counterpart, when used simultaneously these controls create interesting and unique curves characterized by a typical dip in the low frequency response (often colloquially dubbed 'bump') that is extremely effective in keeping track of that low-mid 'mud' which often tarnishes music programs.
The High Frequency Boost cell, originally a bell-shaped curve with adjustable bandwidth, here is enhanced with the option to gradually morph into a classic High Shelf response, for maximum adaptability to any mixing situation.

Every single band in PURETEQ-FREE has been sampled in a separate session; as a result, there's no unwanted additional tone coloration, whatever the number of enabled bands: the final resulting frequency and phase response always represents exactly the sum of what each cell produces by itself, and nothing else. And all of this while retaining the all the great sonic traits of real world analogue hardware, down to the tiniest detail.


PURETEQ-FREE is already available at no cost in your Aquarius account.

HENRY-Q - GERMANIUM INDUCTOR EQUALIZER
HENRY-Q GERMANIUM INDUCTOR EQUALIZER is part of the brand new MetaWare series of Acqua/Nebula libraries for N4 by SoundDrops. It is essentially an equalizer entirely based on real inductors, and as such it could be described as a 'tone-color' processor, rather than a transparent one. Yet, many different responses can be achieved using its versatile sections; if a cleaner tone is needed, the pre-amp stage (the first offender as far as the aforementioned tone-coloring is concerned) can be bypassed at will.


HENRY-Q includes 2 filters, 4 eq sections and a transformer-coupled germanium stereo pre-amp stage.

• Both the High-Pass and Low-Pass filters have a 12dB/oct. slope with a continuous frequency control; they also display a unique feature, rarely found in other devices: a continuous Resonance control that adjusts the amplitude of an additional peak located near corner frequency, from 0 to a maximum of +3dB. It's a very effective sound-shaping tool.

• The equalizer section includes 4 cells: a Low Frequency shelf, a Lo-Mid and a Hi-Mid bell eq (each with two selectable bandwidths) and finally a High section, switchable between a shelf or bell curve.

• Finally, HENRY-Q's stereo germanium pre-amp stage is essential in producing the typical sound texture of a real inductor equalizer. Its main feature is that its THD-Total Harmonic Distortion value (i.e. its propensity to generate overtones) is heavily dependent on frequency, just like real transformers/inductors do. It's a kind of response that gives weight to the lower range and at the same time makes bass-heavy instruments more present and distinct in a mix, even on smaller speakers. Being sampled in stereo, it subtly widens the soundfield image as well.
Henry-Q: 80€